Some links on this page are affiliates links and I may, at no additional cost to you, receive compensation if you decide to purchase. Please be assured I only recommend products I believe in and use myself.
How Date Triggers Work in Ontraport
Let's talk about Date Triggers in Ontraport campaigns. I will discuss how they work, when to use them, and how to avoid the most common mistake with them.
As always, here's a video overview of what I cover in this post:
First off, let me say that the biggest mistake made with Ontraport Date Triggers is setting them up on the same day you want them to trigger. A Date Trigger doesn't work for that scenario in most cases. I will show you what to do instead further down this blog.
When to Use Date Triggers
Date Triggers are useful in any campaign where you want to send emails on a specific day to an audience. Especially if new contacts will be joining the campaign throughout the time it is live. For example:
running a Challenge with emails sent on January 1st, 2nd, and 3rd
a Newsletter campaign that sends emails on Tuesdays
or a Launch campaign sending a series of emails over a couple of weeks
You probably know by now that using date waits in one vertical line will cause contacts who join after the first date has passed to get stuck there and miss future emails. Instead, we use date triggers across the top of a campaign to capture all contacts in a campaign map, no matter where in the campaign they are sitting.
How To Add a Date Trigger:
Click ADD A TRIGGER
Select Today is specific date
Choose the date when you want your trigger to run
Unless you have checked the box before, you will get a message like this: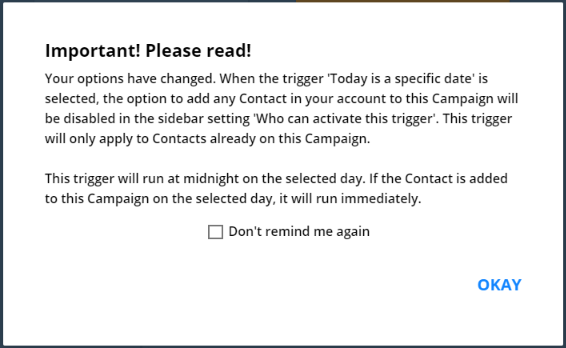 As the message says, this is important information to understand. It relates to that number one mistake that I mentioned before. The first part is just an FYI that the trigger will only work for people who are in the campaign map, not for everyone in the account. This is a good thing.
The second part is what often trips up people. A Date Trigger runs at Midnight on the chosen date for people who are already on the campaign. You cannot set up a Date Trigger Today and have it run automatically for contacts who are already on the campaign. You are past Midnight and it will not work. Note that Midnight means in the account time zone, not necessarily the time zone you are in.
The Date Trigger will run immediately for new contacts added into the campaign, but it will not run for contacts who were already there.
To find out your account time zone:
Manage Users
Open the Account Owner's profile
See time zone
Trigger Settings
Like any element in Ontraport, a Date Trigger has settings on the left side of the screen.
The top dropdown defaults to only contacts on this map, as the warning message said.
The second one allows you to choose whether your contacts will move into the trigger, or be added there again.
And the last one allows you to prevent contacts from activating the trigger twice, which is a good way to prevent duplicate email sends.
Next Steps
When you pick your date, you'll notice that you can't pick a time. As we already discussed, a Date Trigger runs at midnight in the account time zone. But you don't usually want your emails to go out at midnight, right? That's why the next element under a Date Trigger is often a Wait.
My recommendation, even if it seems redundant, is to set your waits to a specific date and time. Even if your Date Trigger is already defining the date, using a date and time in the Wait element ensures the email will only ever be sent out when you want it to be. Whereas a wait for 8 hours, or Wait 15 minutes and then send at 10:00am, runs the risk of sending the email the next day to contacts who join the campaign on the date of the Date trigger, but after the time you wanted the email sent.
Using date and time in the Wait element means contacts who enter the campaign on that date, but after the time you set, will simply sit on that wait until another trigger pulls them into another vertical at a later date.
How to Trigger an Action Today
As we have established, Ontraport Date Triggers must be set up at least one day ahead of time. Then they will run at Midnight for the contacts sitting in a campaign. A common mistake with Date Triggers is to set it up thinking it will run on the same day. It will not.
So how can we work around that? These are two ways to do that:
Method One – Re-add everyone to the campaign
If you set your manual trigger to "Add here again when triggered," you can add the contacts into the campaign again manually. When you do this, the Date Trigger will fire for these contacts.
I recommend caution with this method. Depending on how your campaign is set up, by re-adding contacts into it, you could accidentally trigger other things.
Method Two: Use a trigger tag
If your contacts are already in the campaign, and you need to trigger something today, you can add a trigger that says "when Contact is Added to Tag X" and have the contacts move to that trigger. I like to use a tag named something like ADMIN | Trigger Now, and have the campaign remove the tag as soon as they go through the trigger so that I can re-use it later.
Since I like to re-use the tag; however, I make sure not to accidentally trigger things in more than once campaign at a time by making the trigger work only if the date is today shortly after I plan to use it.
I still set my trigger to 'Any contact on this map' to prevent adding in new contacts who shouldn't be there, and then put in the wait until the time when I want the email to be sent.
You can learn more about me and how I can help you manage your Ontraport systems here.